Blog Post
How to Book a Tattoo Appointment: 2023 The Definitive Guide
If it is your first time getting a tattoo, the scheduling process can seem a bit daunting. How do you find an artist? How do you schedule an appointment? Do you need a consultation? Do you have to pay a deposit? All of these questions and more will be answered in this in-depth article.
Finding a Tattoo Artist
It is essential to know what style of tattoo you want and the general idea of the tattoo. Many artists only have a handful of styles that they prefer to work in. It is best to find an artist whose primary style matches the style of tattoo you want to get. One of the best places to find an artist to give you the tattoo of your dreams is Instagram. Artists use Instagram as their online portfolio and post a lot of their work there. Other ways to find an artist are to ask friends or family for recommendations or check out various tattoo shop websites in your area. Checkout our full guide on How to Find a Tattoo Artist: The Modern 2023 Guide
Appointment Types
There are two types of appointments that artists will typically use. The first is a consultation, and the second is the actual tattooing appointment. During the consultation, you go into the tattoo shop and talk to the artist about your design, where you want it on your body, and any questions you may have. Typically, you will pay a deposit to hold your appointment. You will also set up an appointment for getting the actual tattoo. Since the pandemic, some artists do consultations over zoom or FaceTime calls. Your artist will let you know if a consultation is required.
Some artists will not require a consultation and instead will set up a single appointment for the tattooing. This typically happens when the tattoo is very straightforward or if it is a flash piece. You will still have to pay a deposit to hold your appointment, and since you aren't going physically into the shop, you will most likely use Venmo, Cash App, or PayPal to send the deposit. Make sure to arrive a little early for your appointment!
How to Contact the Artist
Contacting the artist sounds straightforward, but in reality, it can be a bit more complex. If you found your artist on Instagram, make sure to read their bio. Most artists will have instructions there on how to get in touch with them to book. Additionally, some artists may have a highlighted Instagram story with more detailed booking instructions.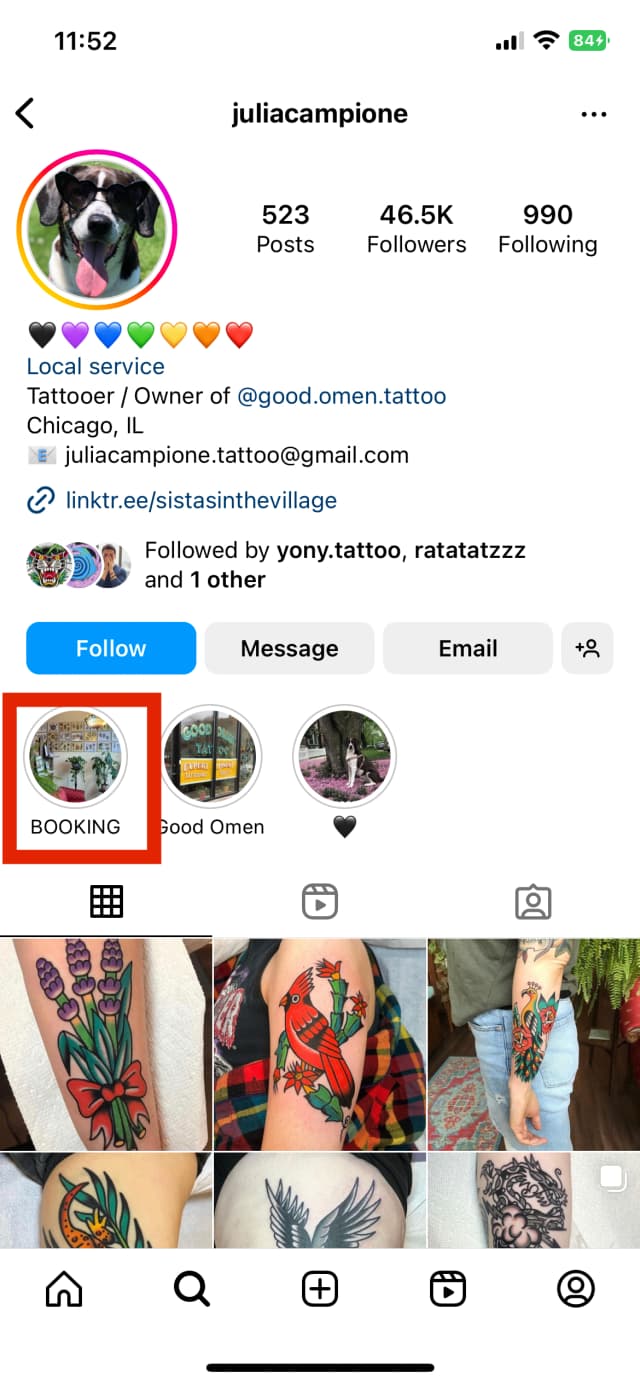 If you see "Books Closed" or anything similar, that means the artist is not currently taking new bookings. Check back later to see if their books open.
Messaging the Artist
When messaging the artist, it is best to be as detailed as possible. You should make sure to include the following in your message:
- The general concept of the tattoo you want to get
- Any reference images you may have.
- The size of the tattoo
- The placement of the tattoo on your body
- Your general availability
Keep in mind that artists are usually extremely busy, and it benefits you to include as much detail in your initial message to avoid exchanging multiple messages. It may also take your artist a while to get back to you. Make sure not to send multiple messages in a short period. Once your artist gets back to make sure to respond as soon as possible.
That's it!
After the date and time have been confirmed by your artist, you are all set to get your tattoo. Make sure to prepare for the appointment and tip your artist.